Regular price
$45.00 USD
Sale price
$45.00 USD
Unit price
per
Sale
Sold out
These Log Style Throw Pillows offer a unique blend of rustic and contemporary chic. They are made with a look of real logs and slices of log for a look that's sure to make a statement. The soft, cozy fabric ensures comfort and durability. Add a touch of nature to any room with these stylish pillows.
These faux log throw-pillows can be used as an accent anywhere: in your den, RV bed & couch, or man-cave- wherever you need a pillow for comfort and want to add an outdoor flair.
Material is soft and creamy and pillows are soft yet firm for support.
Made of cotton and polyester
Log Slice rounds measure 15.5 inches in diameter and just under 3 inches thick. The rounds have a hidden zipper to remove from pillow and wash.

Logs: 19.5 inches long x 8 inches thick.
Free shipping, delivery 19-29 days.

Share
View full details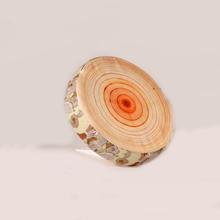 Love these log pillows
Perfect for the car and for a good couch nap. Not microbeads - not too soft.
Thanks for the review! We're so glad you like it! (It's def a staff favorite)
:)
Item is not as described.
This pillow does not have a zipper with a removable pillow insert. Disappointing.
Thank you for bringing this to our attention. We did change out this pillow for one without a zipper but forgot to update that on the product description. Only the 'rounds' have the hidden zipper. But! These log slice pillows can still be hand washed.
We hope you can take advantage of the coupon we sent you. :)
Thanks again.